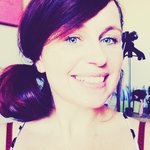 Alicja Kuzmycz
Hi, I'm an artist and creative director working in Melbourne Australia. I create interdisciplinary works which explore contemporary concepts of feminine identity – in particular, its multiplicity and self authorship. These ideas stem from research into female archetypes including – historical storytelling, modern film, pop culture, social psychological theories and visual arts. I also love design, fashion and a range of crafts and love to mix the whole lot together. visit my website http://alicjakuzmycz.net Alicja Kuzmycz joined Society6 on January 29, 2013
More
Hi, I'm an artist and creative director working in Melbourne Australia.
I create interdisciplinary works which explore contemporary concepts of feminine identity – in particular, its multiplicity and self authorship. These ideas stem from research into female archetypes including – historical storytelling, modern film, pop culture, social psychological theories and visual arts.
I also love design, fashion and a range of crafts and love to mix the whole lot together.
visit my website http://alicjakuzmycz.net
Alicja Kuzmycz joined Society6 on January 29, 2013.