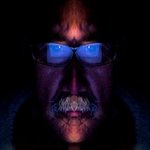 Alienvisitor
These are the voyages of Alienvisitor on his trips across the universe, bringing to the people's of Earth unique pictures of a possible future……beyond the bounds of Earth. Everyone needs an escape. This is mine! My imagination is my art it is "Art & Stories Beyond Earth" My creations seem to escape from the very fabric of space & time, they are but a window into a future that awaits just beyond the Bounds of Earth. A great mind once said………… Imagination is more important than knowledge Albert Einstein. I say…………….. The key to photo manipulation and 3D rendering is to ensure that the final image remains as photorealistic as possible, even if the scene it presents is a fantasy. Alienvisitor joined Society6 on June 30, 2013
More
These are the voyages of Alienvisitor on his trips across the universe, bringing to the people's of Earth unique pictures of a possible future……beyond the bounds of Earth.
Everyone needs an escape. This is mine!
My imagination is my art it is "Art & Stories Beyond Earth"
My creations seem to escape from the very fabric of space & time, they are but a window into a future that awaits just beyond the Bounds of Earth.
A great mind once said…………
Imagination is more important than knowledge Albert Einstein.
I say……………..
The key to photo manipulation and 3D rendering is to ensure that the final image remains as photorealistic as possible, even if the scene it presents is a fantasy.
Alienvisitor joined Society6 on June 30, 2013.
Alienvisitor's Store
117 results
Filter