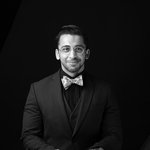 alisammarraie
Born in 1991 in Iraq, Ali Al-Sammarraie is an award winning designer who is a graduate at MIT. During the time Ali studied architecture, he continued to pursue interests in academic research, design and art and tried to find layers of overlap between these fields. Many of his works are manifests of his approach; from Installations and 3d sculptural/architectural works to paintings and line drawings. Ali has no specific theme or "style" to pursue. To him, art is but the pure pursuit of one's curiosity and personal reflection of it. Indeed, it is his only style when he did his work: Apply vigorous attitude to whatever you are doing. This can be seen from his ongoing installations that attempt to redefine common perceptions of waste in the cultural context. His art reflected his ethos, and sometimes personal state of mind at the point they were made. This has been done in different forms from portraits and abstract work to cross-contour drawings. They all reflected his artistic, philosophical and intellectual progress through the years. alisammarraie joined Society6 on July 1, 2015
More
Born in 1991 in Iraq, Ali Al-Sammarraie is an award winning designer who is a graduate at MIT. During the time Ali studied architecture, he continued to pursue interests in academic research, design and art and tried to find layers of overlap between these fields. Many of his works are manifests of his approach; from Installations and 3d sculptural/architectural works to paintings and line drawings.
Ali has no specific theme or "style" to pursue. To him, art is but the pure pursuit of one's curiosity and personal reflection of it. Indeed, it is his only style when he did his work: Apply vigorous attitude to whatever you are doing. This can be seen from his ongoing installations that attempt to redefine common perceptions of waste in the cultural context.
His art reflected his ethos, and sometimes personal state of mind at the point they were made. This has been done in different forms from portraits and abstract work to cross-contour drawings. They all reflected his artistic, philosophical and intellectual progress through the years.
alisammarraie joined Society6 on July 1, 2015.