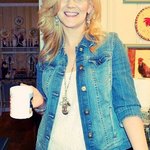 Alisha Gratehouse Designs
Hi there! I'm Alisha: wife, mom of 3, owner of Flourish, author of A Life That Flourishes, Anglophile, lover of hot tea & literature. I believe each of us is artfully created by the Ultimate Artist, and when we were formed He gave us specific desires, talents, abilities, gifts, and passions to help us fulfill His purpose for our lives. My particular passions have always been in writing, drawing, painting, hand lettering and design. Here in my Society6 shop, I offer a sampling of my mixed media art, chalkboard art, oil paintings and watercolor pieces. My hope is that my art will bring joy and inspiration to your life. I would love for you to visit my blog, Flourish (alishagratehouse.com), where I seek to inspire, encourage and empower women to live the abundant and satisfying life that Jesus came to give (John 10:10), and to help them find and fulfill their God-given purpose. Alisha Gratehouse Designs joined Society6 on September 15, 2014
More
Hi there! I'm Alisha: wife, mom of 3, owner of Flourish, author of A Life That Flourishes, Anglophile, lover of hot tea & literature.
I believe each of us is artfully created by the Ultimate Artist, and when we were formed He gave us specific desires, talents, abilities, gifts, and passions to help us fulfill His purpose for our lives.
My particular passions have always been in writing, drawing, painting, hand lettering and design. Here in my Society6 shop, I offer a sampling of my mixed media art, chalkboard art, oil paintings and watercolor pieces. My hope is that my art will bring joy and inspiration to your life.
I would love for you to visit my blog, Flourish (alishagratehouse.com), where I seek to inspire, encourage and empower women to live the abundant and satisfying life that Jesus came to give (John 10:10), and to help them find and fulfill their God-given purpose.
Alisha Gratehouse Designs joined Society6 on September 15, 2014.
Alisha Gratehouse Designs's Store
46 results
Filter