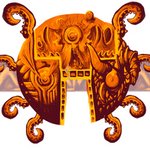 Allbrotnar
My name is Mihai Georgescu and I am originally from Bucharest, Romania, now living in Dundee, Scotland. I have successfully studied Visual Communication and Media Design at the University of Abertay Dundee and am now studying Game Development at a professional level. The pieces you will find on this page are pieces that I create in my spare time and will usually be original pieces (i.e.: not fan art or things like that). I hope you enjoy them! If you have any suggestions or feedback, please do not hesitate to let me know. You can also visit me at www.allbrotnar.co.uk Allbrotnar joined Society6 on June 23, 2012
More
My name is Mihai Georgescu and I am originally from Bucharest, Romania, now living in Dundee, Scotland.
I have successfully studied Visual Communication and Media Design at the University of Abertay Dundee and am now studying Game Development at a professional level.
The pieces you will find on this page are pieces that I create in my spare time and will usually be original pieces (i.e.: not fan art or things like that). I hope you enjoy them! If you have any suggestions or feedback, please do not hesitate to let me know.
You can also visit me at www.allbrotnar.co.uk
Allbrotnar joined Society6 on June 23, 2012.