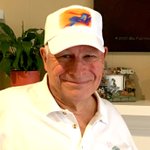 Allen Weitzel
Hello. As a 5th generation native Californian, I studied Fine Arts at the California College of Arts and Crafts, in Oakland (now called the California College of the Arts), and San Jose State University. Oil is my medium of choice.
I prefer creating my oil paintings in the impressionist or abstract style. The strength of my work is in the area of color selection and blending. I have recently created and offered art with my original poetry superimposed on my paintings and photographs. I refer to these images as 'Illustrated Poetry.' I have created over 340 canvases and over 200 'Illustrated Poetry' print designs. I have written over 33,000 poems that I can tap into create new art.
I had planned to become a high school art teacher, but I was distracted by the amusement industry. I enjoyed a 45-year career managing amusement parks and, as a side vocation, I was a western stunt man.
I have recently written a painting E-book titled: What Was He Thinking? I am currently working on volume 2. The book reveals my artist thought process as I created each canvas. The volume grows as each canvas is completed.
Aside from my painting passion, I am also a poet of 48 self-published poetry books and a freelance writer of business articles. The poet, Rod McKuen, was my good friend and mentor for 49 years. My college English instructor was the Beat Poet Michael McClure. My writings have been published in over 530 magazines. E-versions of my painting and poetry books are available from my website. Digital copies of my poetry books are available for sale on request at www.witent.com. I also enjoy collecting and appraising vinyl records.
I make my home in San Jose, California with my wife, Susan, and two very pesky cats. Both of our sons are computer wizards. Thanks for taking the time to look at my art. I hope you find a few images to your liking. Feel free to check out my webpage. http://www.witent.com. There is a lot to see. Stay well. -Allen Field Weitzel
Read more
All by Allen Weitzel
Filter