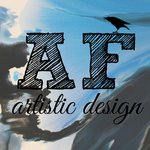 Almost Famous Artistic Design
Gorgeous original artworks for sale or commission, available in a large range of colours and sizes to compliment any decor. Mixed media, acrylic and ink on canvas. These pieces have the glossy wet look of resin but have been made with high quality, UV friendly products that will not yellow over time. Prices vary depending on size, please feel free to contact us for a quote on an individual piece. Facebook: www.facebook.com/almostfamousartisticdesign Instagram: @ALMOSTFAMOUSARTISTICDESIGN Almost Famous Artistic Design joined Society6 on January 13, 2015
More
Gorgeous original artworks for sale or commission, available in a large range of colours and sizes to compliment any decor.
Mixed media, acrylic and ink on canvas. These pieces have the glossy wet look of resin but have been made with high quality, UV friendly products that will not yellow over time.
Prices vary depending on size, please feel free to contact us for a quote on an individual piece.
Facebook: www.facebook.com/almostfamousartisticdesign Instagram: @ALMOSTFAMOUSARTISTICDESIGN
Almost Famous Artistic Design joined Society6 on January 13, 2015.