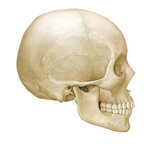 Karen Bucher
Karen is a mom to two crazy (but lovable) kids by day and an award-winning Certified Medical Illustrator specializing in medical visual communications by night. Two days a week she escapes to teach grad school and surrounds herself with people who use words like "endarterectomy" and "cholecystectomy," which is a welcome break from fart jokes and potty training. Karen dreamed up the book Alphanatomy one afternoon while she was teaching her son to take his socks off by slipping them around his calcaneus, which is much more appropriate than it sounds. http://bucherillustration.com/portfolio http://alphanatomy.com Karen Bucher joined Society6 on February 1, 2013
More
Karen is a mom to two crazy (but lovable) kids by day and an award-winning Certified Medical Illustrator specializing in medical visual communications by night. Two days a week she escapes to teach grad school and surrounds herself with people who use words like "endarterectomy" and "cholecystectomy," which is a welcome break from fart jokes and potty training.
Karen dreamed up the book Alphanatomy one afternoon while she was teaching her son to take his socks off by slipping them around his calcaneus, which is much more appropriate than it sounds.
http://bucherillustration.com/portfolio http://alphanatomy.com
Karen Bucher joined Society6 on February 1, 2013.