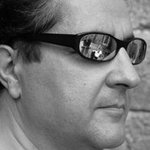 Luis Alvarez
I am a digital artist based in Barcelona (Spain). I have been working with the leading design and brand agencies since 1986 as a freelance illustrator and visualizer.
I love traveling, meeting people and taking photographs. Drawing is my first passion, but traveling is a close second.
After years of working for others, I decided to strike out on my own and introduce the world to my art. This project is a combination of my love for drawing and travel. The result of this combination is a travel sketchbook containing twelve of my favorite images from places I have visited and loved. This was a great challenge, how to capture the essence of such complex places in only a few pictures.
I always try to capture the fleeting moment when harmony and beauty emerges from the surrounding chaos and the daily life of local people reveals itself.
It is my goal with each pictures to recreate the authenticity of the moment without the addition of artificial composition styles.
Finally, I strive to make each picture the highest quality.
See my website gallery: www.luisalvarezgallery.com
Read more
Luis Alvarez's Store
42 results
Filter