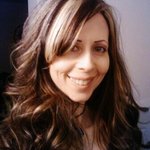 Alyson Stone
" When we choose to love the work we do, we can catch our limit of happiness, meaning, and fulfillment every day." I am a visionary artist and my abstract art is intuitively created to bring messages of awareness and deepen your connection to your sacred self. Many blessings to you in your journey. I am honored to share my artwork with you. More of my art can be found on the following websites: http://alyson-stone.pixels.com http://www.zazzle.com/alysonstone Copyright belongs to Alyson Stone. All images on this web site are fully protected by U.S. and international copyright laws, all rights reserved. The images may not be copied, reproduced, manipulated or used in any way, without written permission from myself. Any unauthorized usage will be prosecuted to the full extent of U.S. Copyright Law Alyson Stone joined Society6 on June 16, 2015
More
" When we choose to love the work we do, we can catch our limit of happiness, meaning, and fulfillment every day."
I am a visionary artist and my abstract art is intuitively created to bring messages of awareness and deepen your connection to your sacred self. Many blessings to you in your journey. I am honored to share my artwork with you.
More of my art can be found on the following websites: http://alyson-stone.pixels.com http://www.zazzle.com/alysonstone
Copyright belongs to Alyson Stone. All images on this web site are fully protected by U.S. and international copyright laws, all rights reserved. The images may not be copied, reproduced, manipulated or used in any way, without written permission from myself. Any unauthorized usage will be prosecuted to the full extent of U.S. Copyright Law
Alyson Stone joined Society6 on June 16, 2015.
Alyson Stone's Store
116 results
Filter