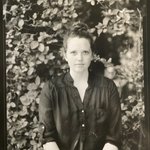 Amanda Adkisson
Amanda Adkisson is a Denver based fine art photographer working in film and digital media. She first became interested in photography as a teenager, always carrying around a camera. The passion continued in high school with traditional black and white film classes. Her decision to pursue a career in the art world came when taking time off before college led her to miss the the darkroom and its processes. Adkisson has exhibited her work in both student and local exhibitions, including EDGE Gallery and Spark Gallery for Denver's Month of Photography. She studied alternative processes at the Santa Reparata International School of Art in Florence, Italy and received a bachelor of fine arts degree in Photography from the University of Colorado Denver in 2015. Adkisson plans to continue with her love of travel and pursue a career in the art gallery field while continuing to create work influenced by her surroundings. www.amandaadkisson.com https://www.instagram.com/addakisstoason/ Amanda Adkisson joined Society6 on February 3, 2016
More
Amanda Adkisson is a Denver based fine art photographer working in film and digital media. She first became interested in photography as a teenager, always carrying around a camera. The passion continued in high school with traditional black and white film classes. Her decision to pursue a career in the art world came when taking time off before college led her to miss the the darkroom and its processes.
Adkisson has exhibited her work in both student and local exhibitions, including EDGE Gallery and Spark Gallery for Denver's Month of Photography. She studied alternative processes at the Santa Reparata International School of Art in Florence, Italy and received a bachelor of fine arts degree in Photography from the University of Colorado Denver in 2015. Adkisson plans to continue with her love of travel and pursue a career in the art gallery field while continuing to create work influenced by her surroundings.
www.amandaadkisson.com https://www.instagram.com/addakisstoason/
Amanda Adkisson joined Society6 on February 3, 2016.
Amanda Adkisson's Store
128 results
Filter