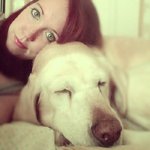 AmandaCleal
I love animals and I enjoy volunteering at a local animal rescue. I love food and all things cute. I love to draw marker sketches, design t-shirts and stickers, make DIY t-shirts, sculpt balloons, and travel. I hope you enjoy my designs as much as I do! AmandaCleal joined Society6 on October 14, 2012
More
I love animals and I enjoy volunteering at a local animal rescue. I love food and all things cute. I love to draw marker sketches, design t-shirts and stickers, make DIY t-shirts, sculpt balloons, and travel.
I hope you enjoy my designs as much as I do!
AmandaCleal joined Society6 on October 14, 2012.