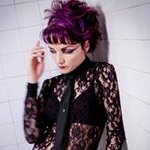 Amanda Grace
Reasons to be, reasons to do. Welcome to Amanda Grace's Society6 shop: Coming Up Violets! Amanda is an artist and slightly crafty person, who enjoys making absurd images and up-cycling. She is not one shy from the title of the manic-depressive and ADHD mom of a kid who has serious ADHD. The primary focus of opening this shop is to help them raise money for intensive nutrition, classes, activities and other educational opportunities that will benefit her son. Additionally funds provide the ability to take time off for her own medical appointments and taking him to therapists. Art for Amanda is not just an undeniable drive to create, or a form of self-expression, but also a way of fundraising for these important things. Rather than ask for money, she wishes to share and exchange her talent, and gifts in a meaningful way. "I love nothing more than to cross-pollinate and cross-promote with other artists who do other types of thing - such as my musician friends, video friends, etc." Amanda happily accept requests, commissions, challenges, dares and double dog dares! Find Coming Up Violets at: http://www.comingupviolets.com http://www.facebook.com/comingupviolets and https://www.etsy.com/shop/comingupviolets Amanda Grace joined Society6 on December 28, 2013
More
Reasons to be, reasons to do.
Welcome to Amanda Grace's Society6 shop: Coming Up Violets! Amanda is an artist and slightly crafty person, who enjoys making absurd images and up-cycling.
She is not one shy from the title of the manic-depressive and ADHD mom of a kid who has serious ADHD. The primary focus of opening this shop is to help them raise money for intensive nutrition, classes, activities and other educational opportunities that will benefit her son. Additionally funds provide the ability to take time off for her own medical appointments and taking him to therapists.
Art for Amanda is not just an undeniable drive to create, or a form of self-expression, but also a way of fundraising for these important things. Rather than ask for money, she wishes to share and exchange her talent, and gifts in a meaningful way.
"I love nothing more than to cross-pollinate and cross-promote with other artists who do other types of thing - such as my musician friends, video friends, etc."
Amanda happily accept requests, commissions, challenges, dares and double dog dares!
Find Coming Up Violets at: http://www.comingupviolets.com http://www.facebook.com/comingupviolets and https://www.etsy.com/shop/comingupviolets
Amanda Grace joined Society6 on December 28, 2013.