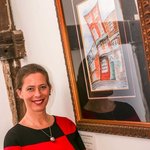 Amanda Hamilton
Born in 1965, I'd like to say I was quickly spotted as a modern day "Romantic Impressionist". In truth, my exploration into the delicate world of watercolour painting began much later - in 1992 - when I was lucky enough to spend time sailing between the islands of St Lucia and Grenada. The vibrancy of sun-drenched colours, the dancing of the sparkling water, the clatter of the topsy-turvy boats being loaded and unloaded was a daily enchantment. There are no straight lines in the Caribbean, everything moves and undulates with the constant breeze, colourful life simply bursting at the seams with a delicious joie de vivre. From the warmth of the West Indies to the creative haven of St Ives I began a journey that has been described as "being taken through the looking glass, into a dreamlike Wonderland, as though I had drunk from the bottle marked Drink Me", "a place of pure feeling", "where the buildings are alive and moving", "filled with insight, paintings dancing from their Souls". How do I see my work? To me, a lightheartedness emerges in my paintings. I see a home, or a view, and my pencil creates a joyful, spirited interpretation that uplifts in a good humoured, almost playful way. I can be quite a serious person at times so I enjoy the expressive and imaginative fluidity of this dreamy and reflective style. My paintings exude an effortless, uplifting and happy energy, still allowing me to pour my emotions and experiences into my work, yet at the same time capturing the very essence of the places, animals and people I paint. Im thrilled that in 2017 I will be working as a Painting Tutor with Authentic Adventures both in the UK and overseas and have been featured in Vogue, World of Interiors, The Discerner Magazine and have been lucky enough to have worked alongside the National Trust. Amanda now lives in Ross-on-Wye with her son where she teaches yoga, raises money for Charities with her Spanish home Casa La Celada, and paints. Amanda Hamilton joined Society6 on March 26, 2016
More
Born in 1965, I'd like to say I was quickly spotted as a modern day "Romantic Impressionist". In truth, my exploration into the delicate world of watercolour painting began much later - in 1992 - when I was lucky enough to spend time sailing between the islands of St Lucia and Grenada. The vibrancy of sun-drenched colours, the dancing of the sparkling water, the clatter of the topsy-turvy boats being loaded and unloaded was a daily enchantment. There are no straight lines in the Caribbean, everything moves and undulates with the constant breeze, colourful life simply bursting at the seams with a delicious joie de vivre. From the warmth of the West Indies to the creative haven of St Ives I began a journey that has been described as "being taken through the looking glass, into a dreamlike Wonderland, as though I had drunk from the bottle marked Drink Me", "a place of pure feeling", "where the buildings are alive and moving", "filled with insight, paintings dancing from their Souls".
How do I see my work? To me, a lightheartedness emerges in my paintings. I see a home, or a view, and my pencil creates a joyful, spirited interpretation that uplifts in a good humoured, almost playful way. I can be quite a serious person at times so I enjoy the expressive and imaginative fluidity of this dreamy and reflective style. My paintings exude an effortless, uplifting and happy energy, still allowing me to pour my emotions and experiences into my work, yet at the same time capturing the very essence of the places, animals and people I paint. Im thrilled that in 2017 I will be working as a Painting Tutor with Authentic Adventures both in the UK and overseas and have been featured in Vogue, World of Interiors, The Discerner Magazine and have been lucky enough to have worked alongside the National Trust. Amanda now lives in Ross-on-Wye with her son where she teaches yoga, raises money for Charities with her Spanish home Casa La Celada, and paints.
Amanda Hamilton joined Society6 on March 26, 2016.
Amanda Hamilton's Store
29 results
Filter