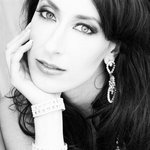 AMANDA MORIE
CONTACT AMANDA MORIE- www.amorie.ca amorie@ualberta.ca Instagram-> amandamorie Facebook-> Amanda Morie www.diamondcut-style.tumblr.com www.life-couture.tumblr.com Amanda Morie, is graduate from University of Alberta, Canada, in Elementary Education and Fine Arts. She also holds a designation as a wedding and event planner through Wedding Planner Institute of Canada. Currently she is a member of Harcourt House Arts Centre, VAAA- Visual Arts Alberta Association, CARFAC-Canadian Artist Representation and also belongs to SCARS- Second Chance Animal Rescue Society, SOS Children's Villages and Presidents Choice Children's Charity. Internationally recognized as a contemporary artist Amanda concentrates on using light, color and various media and textures on canvas. She has been published in 83 countries worldwide including her first academic journal at Oxford University in the United Kingdom. Her other books include International Contemporary Masters VI and Important World Artists books which were published by World Wide Art Books Inc. based out of Santa Barbara, California, USA and in her own books "Along the Lines…of My Thoughts" published by the Brooklyn Art Library in Brooklyn, New York, USA and "Artisty Poetry" which she is still writing and will be released in the new future. Aesthetica Magazine, a leading international art and culture magazine, based out of York, England, has been one of Amanda's biggest art allies of support as they continuously showcase her and her art in their Artist Directory. Amanda has been a featured artist in their magazine since the December/ January 2011 issue. ARTIST STATEMENT- The heart is like a paint brush when it strokes across a crisp white canvas. Each stroke is unique unto itself, showing its distinct characteristics of the emotion evoked in that particular moment. With layer upon layer microscopic complexities of the heart are unloaded onto its viewers that surround it. A dissection of Amanda's emotions and thoughts, her art exposes every fibre of her being. Dynamic and vibrant it takes on different movements of colour in different settings of light, speaking to you even if you're not looking. Creating the power to show people the beauty in light, colour and texture she thus hopes to awaken the heart of excitement and curiosity in people to notice things that they otherwise would not have noticed. The matters of the heart are never clear in form and follow an abstraction unique to its emotion. Amanda's art is deeply rooted to shed the light on the little things that compose each emotion and moment entangled to the beauty that is within and surrounds us. It is the most powerful visual language that her heart can display as it begins its journey with a single stroke of paint across a crisp white canvas. AMANDA MORIE joined Society6 on May 23, 2013
More
CONTACT AMANDA MORIE-
www.amorie.ca amorie@ualberta.ca Instagram-> amandamorie Facebook-> Amanda Morie www.diamondcut-style.tumblr.com www.life-couture.tumblr.com
Amanda Morie, is graduate from University of Alberta, Canada, in Elementary Education and Fine Arts. She also holds a designation as a wedding and event planner through Wedding Planner Institute of Canada. Currently she is a member of Harcourt House Arts Centre, VAAA- Visual Arts Alberta Association, CARFAC-Canadian Artist Representation and also belongs to SCARS- Second Chance Animal Rescue Society, SOS Children's Villages and Presidents Choice Children's Charity.
Internationally recognized as a contemporary artist Amanda concentrates on using light, color and various media and textures on canvas. She has been published in 83 countries worldwide including her first academic journal at Oxford University in the United Kingdom. Her other books include International Contemporary Masters VI and Important World Artists books which were published by World Wide Art Books Inc. based out of Santa Barbara, California, USA and in her own books "Along the Lines…of My Thoughts" published by the Brooklyn Art Library in Brooklyn, New York, USA and "Artisty Poetry" which she is still writing and will be released in the new future. Aesthetica Magazine, a leading international art and culture magazine, based out of York, England, has been one of Amanda's biggest art allies of support as they continuously showcase her and her art in their Artist Directory. Amanda has been a featured artist in their magazine since the December/ January 2011 issue.
ARTIST STATEMENT- The heart is like a paint brush when it strokes across a crisp white canvas. Each stroke is unique unto itself, showing its distinct characteristics of the emotion evoked in that particular moment. With layer upon layer microscopic complexities of the heart are unloaded onto its viewers that surround it. A dissection of Amanda's emotions and thoughts, her art exposes every fibre of her being. Dynamic and vibrant it takes on different movements of colour in different settings of light, speaking to you even if you're not looking. Creating the power to show people the beauty in light, colour and texture she thus hopes to awaken the heart of excitement and curiosity in people to notice things that they otherwise would not have noticed. The matters of the heart are never clear in form and follow an abstraction unique to its emotion. Amanda's art is deeply rooted to shed the light on the little things that compose each emotion and moment entangled to the beauty that is within and surrounds us. It is the most powerful visual language that her heart can display as it begins its journey with a single stroke of paint across a crisp white canvas.
AMANDA MORIE joined Society6 on May 23, 2013.