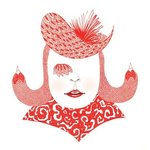 Amanda Reilly
My name is Amanda Reilly and I am a New York based Illustrator. My philosophy is about completely embracing the bold and bizarre. The work I create combines powerful symbolic imagery with unpredictable, and even erotic subject matter. Check out my website and Facebook page for any news and updates!
http://www.amandareilly.com/ https://www.facebook.com/AmandaReillyArt
All drawings, sketches and artworks © Amanda C Reilly. 2014 All rights reserved.
Read more
Amanda Reilly's Store
Filter