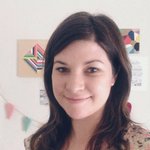 Amber Barkley
Hi there! My name is Amber Barkley, and I'm a graphic designer from San Diego, CA. While I specialize in stationery design, I also like to dabble in art every now and then. In my spare time, I love hanging out with friends and family, playing with my dog Princess, watching movies, baking cupcakes, and exploring my lovely hometown. See more of my work at: facebook.com/amberbarkleydesign & amberbarkley.blogspot.com Amber Barkley joined Society6 on September 27, 2012
More
Hi there! My name is Amber Barkley, and I'm a graphic designer from San Diego, CA. While I specialize in stationery design, I also like to dabble in art every now and then.
In my spare time, I love hanging out with friends and family, playing with my dog Princess, watching movies, baking cupcakes, and exploring my lovely hometown.
See more of my work at: facebook.com/amberbarkleydesign & amberbarkley.blogspot.com
Amber Barkley joined Society6 on September 27, 2012.