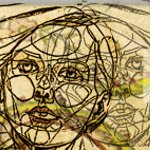 Amit Grubstein
Hi, welcome ! :)
My name is Amit Grubstein, 27 years old from Israel.
In my shop you will find artwork I have created over the years.
I always had passion for art, and I create from a young age. My greatest love is painting, and I create different mediums. I love to paint mostly in oil, acrylic, and watercolor and ink illustrations, pens and crayons. I'm most interested in issues which are fantasy, surrealism and female beauty.
I studied visual arts at the Avni Institute in Tel Aviv, and now I'm studying graphic design and web design. I use the tools I have purchased mainly to combine my original paintings with digital media, so I can process the work and create new and interesting styles.
The paintings offered for sale here are original, and each is an integral part of me ... in every one I've spent many hours of work and love:) Alltough, In the shop you will also find print versions of the original paintings in various styles and at a reduced rate.
In between, I make art from whatever's handy and interesting - ornaments, jewelry, clothing, dolls .... so try to drop by from time to time:) In addition, I am very happy to do custom designs. Simply contact us via the website or email: amit1484 [!at] hotmail.com
Visit and purchase also via:
http://www.facebook.com/pages/Amit-Grubstein-Art-Design/197604876987842
http://www.redbubble.com/people/amitart
http://www.imagekind.com/MemberProfile.aspx?MID=f54a3b48-752d-4721-967f-7ca1ba0915a0
Thank you for your interest! Amit
Read more
Amit Grubstein's Store
Filter