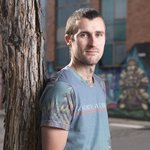 Amos Duggan
I am a Melbourne based visual artist and have been since mid 2009. I studied my Diploma of Fine Arts in Noosa, Queensland.
I grew up in a rural Australian environment, amoungst the fields of dairy and beef cattle mostly. Needless to say, it confused the locals when I began painting bright coloured and psychologically textured figures from my silent imagination that no-one knew existed beyond their rusted and barbed, wired fences.
I do love the beautiful rolling mountains and fields from where I came, but the urban environment also captures my interest with it's ever changing intensity. The city is the epitome of what I like to call 'RUK'. (The little unaknowledged section of time between the NOW and the FUTURE.) A timezone where artists and designers live.
My artwork is a curious representation of these people. It shows them in that moment where they don't even know that someone can see them. In their element.
Instagram: @amosduggan www.instagram.com/amosduggan Tumblr: www.amosduggan.tumblr.com
Read more