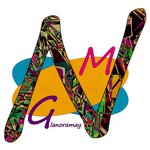 Glanoramay
Surface pattern designer/artist, specialising in wild and vividly coloured abstracts. Find me on facebook http://www.facebook.com/Glanoramay To say that I am a colour crazed loon is something of an understatement, I dream colour, think in colour and surround myself with vibrancy. Nothing appeals to me more than forcing together tones that shouldn't 'go', that break all decency in artistic rule and style laws, then making them shout at each other while bouncing around. My artwork is generally alive with movement, noise and emotion, it may sometimes be jarring and eyewateringly vivid, but it is never silent. Glanoramay, my online name, is an amalgamation of my late Nanna, Nora, and her two sisters, Galdys and May. http://www.spoonflower.com/profiles/glanoramay http://www.redbubble.com/people/glanoramay http://www.artofwhere.com/shop/artist/glanoramay Glanoramay joined Society6 on August 16, 2011
More
Surface pattern designer/artist, specialising in wild and vividly coloured abstracts. Find me on facebook http://www.facebook.com/Glanoramay
To say that I am a colour crazed loon is something of an understatement, I dream colour, think in colour and surround myself with vibrancy. Nothing appeals to me more than forcing together tones that shouldn't 'go', that break all decency in artistic rule and style laws, then making them shout at each other while bouncing around. My artwork is generally alive with movement, noise and emotion, it may sometimes be jarring and eyewateringly vivid, but it is never silent.
Glanoramay, my online name, is an amalgamation of my late Nanna, Nora, and her two sisters, Galdys and May.
http://www.spoonflower.com/profiles/glanoramay http://www.redbubble.com/people/glanoramay http://www.artofwhere.com/shop/artist/glanoramay
Glanoramay joined Society6 on August 16, 2011.