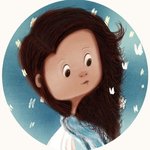 Amparo Cortes
The power of communication through graphic design and the written word have always fascinated me. So it only made sense for me to graduate from law school. What better education is there for an aspiring graphic designer? Life has this odd way of unfolding every now and then, but it got me to where I am today. Fast-forward a couple of years, and here I am. It's Sunday-morning, the dogs have had their fun in the forest already. Where the rest of the world is still waking up, I have already fired up the computer to begin working. I thank law school every time I need the discipline to continue working on that smiley, even after the millionth failed attempt at getting it just right. The curse of a perfectionist, I suppose. It's hours happily invested though; with every failed attempt you learn something new, and the satisfaction of getting something just right is what drives me to continue. ;) – Perfect, is it not? I'd rather let my work do the talking though, and forward you to my portfolio. I've seen enough books in my short time to know when enough is enough, and what happens when that limit is crossed. Follow me in Pinterest: https://www.pinterest.com/aubierna8/amparo-cortes/ My website: http://www.ac-graphicdesign.com/ Facebook: https://www.facebook.com/pages/AC-Graphic-Design/386742874841791 Behance: https://www.behance.net/amparocortes Instagram: https://www.instagram.com/little.amparanoia/ Amparo Cortes joined Society6 on November 20, 2014
More
The power of communication through graphic design and the written word have always fascinated me. So it only made sense for me to graduate from law school. What better education is there for an aspiring graphic designer? Life has this odd way of unfolding every now and then, but it got me to where I am today.
Fast-forward a couple of years, and here I am. It's Sunday-morning, the dogs have had their fun in the forest already. Where the rest of the world is still waking up, I have already fired up the computer to begin working. I thank law school every time I need the discipline to continue working on that smiley, even after the millionth failed attempt at getting it just right. The curse of a perfectionist, I suppose. It's hours happily invested though; with every failed attempt you learn something new, and the satisfaction of getting something just right is what drives me to continue.
;) – Perfect, is it not?
I'd rather let my work do the talking though, and forward you to my portfolio. I've seen enough books in my short time to know when enough is enough, and what happens when that limit is crossed.
Follow me in Pinterest: https://www.pinterest.com/aubierna8/amparo-cortes/
My website: http://www.ac-graphicdesign.com/
Facebook: https://www.facebook.com/pages/AC-Graphic-Design/386742874841791
Behance: https://www.behance.net/amparocortes
Instagram:
https://www.instagram.com/little.amparanoia/
Amparo Cortes joined Society6 on November 20, 2014.