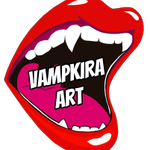 VampKira Art
Thoughts, visions, and dreams are what manifest itself on a blank piece of paper or canvas. Many of the pieces are not pre conceived, but are created in the moment when the medium is placed on its surface. Allowing the subconscious to penetrate reality and make its way to the canvas. Chicago artist. Owner of the Surreal Rabbit art Studio in Pilsen. www.facebook.com/vampkiraart/ Instagram @VampKira_Art VampKira Art joined Society6 on February 17, 2014
More
Thoughts, visions, and dreams are what manifest itself on a blank piece of paper or canvas. Many of the pieces are not pre conceived, but are created in the moment when the medium is placed on its surface. Allowing the subconscious to penetrate reality and make its way to the canvas. Chicago artist. Owner of the Surreal Rabbit art Studio in Pilsen.
www.facebook.com/vampkiraart/ Instagram @VampKira_Art
VampKira Art joined Society6 on February 17, 2014.