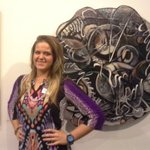 Amy-Beth Rice
I am a Memphis-based artist originally from the Midwest. Here are some things I've done in my life: picked blueberries on a farm for a living, taught Art levels 1-4 at an arts magnet school, gotten my bachelors and masters degrees in the arts, danced in Barney and Dora the Explorer costumes at children's birthday parties for a living, been an Athiest, managed a coffee shop, danced in front of thousands of people (and fell one time in front of about 4,000, but I got up and kept dancing). Here are some things I love: Jesus. The prophetic. Dance. Cookies. The Mississippi River. Southern Food. Sid Roth. Abundant floral arrangements. Amy-Beth Rice joined Society6 on February 15, 2015
More
I am a Memphis-based artist originally from the Midwest. Here are some things I've done in my life: picked blueberries on a farm for a living, taught Art levels 1-4 at an arts magnet school, gotten my bachelors and masters degrees in the arts, danced in Barney and Dora the Explorer costumes at children's birthday parties for a living, been an Athiest, managed a coffee shop, danced in front of thousands of people (and fell one time in front of about 4,000, but I got up and kept dancing).
Here are some things I love: Jesus. The prophetic. Dance. Cookies. The Mississippi River. Southern Food. Sid Roth. Abundant floral arrangements.
Amy-Beth Rice joined Society6 on February 15, 2015.