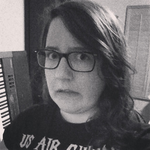 Amy Czarkowski
I'm an architecture student in my final year of undergrad, and I have a big passion for design and art of all types. I have a specialization in media study, and in addition to drawings, collages, models, and more, I also make short art films and I dabble in photography. I love to travel, and I wish I could do more of it! I especially love street art because it is such an expression of a city and the inhabitants living inside of it. I've made my own art using the graffiti that I see in the way of making graffiti collages! I love making them in my free time, and I know lots of other people like them too, so why not upload them and spread the joy and celebration of street art and graffiti? If you have any questions, don't hesitate to email me! Amy Czarkowski joined Society6 on December 9, 2014
More
I'm an architecture student in my final year of undergrad, and I have a big passion for design and art of all types. I have a specialization in media study, and in addition to drawings, collages, models, and more, I also make short art films and I dabble in photography. I love to travel, and I wish I could do more of it!
I especially love street art because it is such an expression of a city and the inhabitants living inside of it. I've made my own art using the graffiti that I see in the way of making graffiti collages! I love making them in my free time, and I know lots of other people like them too, so why not upload them and spread the joy and celebration of street art and graffiti?
If you have any questions, don't hesitate to email me!
Amy Czarkowski joined Society6 on December 9, 2014.