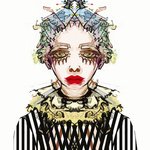 Amy frances Illustration
Since I was a young child I have always been creative and it has become such a huge part of my life now as an adult. Recently I became a 2013 graduate of BA design at Hull University and I am proud to say that I graduated with a 2:1. After studying art and design for so many years I have learnt that I enjoy working with a wide range of mediums; I love to explore different techniques when designing so that I can produce illustrations of a high standard. I am extremely passionate about the work that I do and find inspiration in the world that surrounds us be it from natural elements to the fashion world. I enjoy the freedom of being able to take my illustrations further and being able to create a wide variety of products. www.amyfrances-illustration.co.uk Facebook - https://www.facebook.com/AmyFrancesIllustration AmyFrances xx Amy frances Illustration joined Society6 on August 9, 2013
More
Since I was a young child I have always been creative and it has become such a huge part of my life now as an adult. Recently I became a 2013 graduate of BA design at Hull University and I am proud to say that I graduated with a 2:1. After studying art and design for so many years I have learnt that I enjoy working with a wide range of mediums; I love to explore different techniques when designing so that I can produce illustrations of a high standard. I am extremely passionate about the work that I do and find inspiration in the world that surrounds us be it from natural elements to the fashion world. I enjoy the freedom of being able to take my illustrations further and being able to create a wide variety of products.
www.amyfrances-illustration.co.uk
Facebook - https://www.facebook.com/AmyFrancesIllustration
AmyFrances xx
Amy frances Illustration joined Society6 on August 9, 2013.