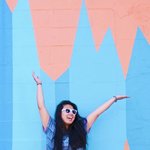 Amy Chen (@amyventures)
I'm a NJ / NY-based graphic designer / photographer.
I somehow survived Pratt Institute being a non-coffee drinker and recently graduated with my BFA in Communications Design. I also have a minor in Art History, and can often be found getting yelled at by museum / gallery security guards for taking photos of things that I'm not supposed to be taking photos of.
I have a serious case of wanderlust, and I enjoy hiking in the woods, treasure-hunting on the beach, roaming the streets of NY, and dream of some day traveling the world.
I'm also a firm believer that guacamole is the breakfast / lunch / dinner of champions.
Website/Blog: http://www.amychendesign.com Instagram: http://www.instagram.com/amyventures Twitter: http://www.twitter.com/amyventures Pinterest: http://http://www.pinterest.com/amyventures/
Read more