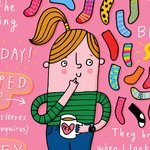 Amy Walters
Amy Walters is an illustrator based in the UK. Amy has a strong background in visual arts with many years experience in creating imagery for use both online and in print. She works with traditional art forms such as pencil drawing and water colour as well as computer illustration, often combining both. The images Amy creates are bold and sometimes humourous, cute but grown up and they will often bring a smile to your face! Amy is available for commissioned work, for information please contact hello@amywalters.com Website: http://www.amywalters.com Etsy: http://www.amyawalters.etsy.com Facebook: http://www.facebook.com/amyawalters Instagram: http://instagram.com/amyalisha Amy Walters joined Society6 on July 15, 2010
More
Amy Walters is an illustrator based in the UK.
Amy has a strong background in visual arts with many years experience in creating imagery for use both online and in print. She works with traditional art forms such as pencil drawing and water colour as well as computer illustration, often combining both. The images Amy creates are bold and sometimes humourous, cute but grown up and they will often bring a smile to your face!
Amy is available for commissioned work, for information please contact hello@amywalters.com
Website: http://www.amywalters.com Etsy: http://www.amyawalters.etsy.com Facebook: http://www.facebook.com/amyawalters Instagram: http://instagram.com/amyalisha
Amy Walters joined Society6 on July 15, 2010.