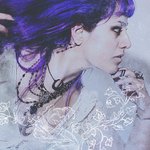 Ana Correal
Digital Art, Drawings & Paintings of somber beauty 🌙 www.anacorreal.com
🌙 instagram.com/anacorreal
Hello! Welcome to my art store. I am an adamant advocate for the revendication of emotional expression in the arts, as a reaction to an excessive and reckless hyper-rationalization of life and the excess of logical, consequent-driven mentality. I strive for every creative expression to serve as a potential proverbial door to another world of perception. A limelight over our very nature, identity, and our personal understanding of existence. I draw my inspirations from Folklore, ancient and modern Mythology, Nature, the Surrealist, Romantic, Symbolist and Pre Raphaelite movements, XIX Century Gothic Literature, Medieval Illuminated Manuscripts, and beautiful dark music.
Be sure to check what each artwork has to offer. Of course Society6 Prints are beautiful, but you can also have it on stickers, notebooks and weird stuff like cushions or yoga mats. Click on "Collections" to see some of my favourite items from my store, and beautiful artwork I've seen from other artists.
If you need to contact me, you can reach me at hello@anacorreal.com . I work for personal and commercial comissions, and I'm also active on instagram @anacorreal .
Thank you for stopping by!
Read more
Prints by Ana Correal
14 results
Filter