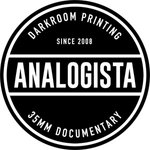 Analogista
Hi, I'm Analogista! I shoot analog and live in my darkroom. The world of photography tried to draw me in when I found a Soviet camera called Czajka in my grandpa's cabinet. In 1994, during summer vacation in Croatia, I shot my first roll of Fomapan 100. Ferociously, probably seized by a temporary collector's fetish I was capturing yachts and literally filled all of 72 available frames with boat images. 72 was actualy as much as this sophisticated split-frame camera managed to squeeze on the film emulsion. This incident happened to be my only serious project until 2001 when the digital came and filled my exist ence with pictures of bugs, flowers and girlfriends. My first and until now my only real analog camera has been the Nikon FM2. I bought a secondhand one in fall 2007 and cool things started to happen. I started a blog and became a member of several photocrews (current one). Sharing ideas, providing feedback, supporting each other, making things happen and what's more having friends for life that is what I'm greatful for. In 2014 I created Analogista as a framework and label for my future activities. Sending analog_love from the Czech Republic! Tomas Dvorak www.analogista.cz www.urodnykompost.blogspot.com --- Exhibitions: 2010 – Djúpavík / Kunštátská Tro3jka Café / Brno 2012 – Tropikal / Fstop a přátelé / Kokpit Café / Praha 2012 – Tropikal / Lúzři v Kokpitu / Kokpit Café, Praha + INTERNATIONAL PORTFOLIO REVIEW 2013 – The 15th International Meeting of Photographers Analogista joined Society6 on September 29, 2014
More
Hi, I'm Analogista!
I shoot analog and live in my darkroom. The world of photography tried to draw me in when I found a Soviet camera called Czajka in my grandpa's cabinet. In 1994, during summer vacation in Croatia, I shot my first roll of Fomapan 100. Ferociously, probably seized by a temporary collector's fetish I was capturing yachts and literally filled all of 72 available frames with boat images. 72 was actualy as much as this sophisticated split-frame camera managed to squeeze on the film emulsion. This incident happened to be my only serious project until 2001 when the digital came and filled my exist ence with pictures of bugs, flowers and girlfriends. My first and until now my only real analog camera has been the Nikon FM2. I bought a secondhand one in fall 2007 and cool things started to happen. I started a blog and became a member of several photocrews (current one). Sharing ideas, providing feedback, supporting each other, making things happen and what's more having friends for life that is what I'm greatful for. In 2014 I created Analogista as a framework and label for my future activities.
Sending analog_love from the Czech Republic!
Tomas Dvorak www.analogista.cz www.urodnykompost.blogspot.com
---
Exhibitions: 2010 – Djúpavík / Kunštátská Tro3jka Café / Brno 2012 – Tropikal / Fstop a přátelé / Kokpit Café / Praha 2012 – Tropikal / Lúzři v Kokpitu / Kokpit Café, Praha
INTERNATIONAL PORTFOLIO REVIEW 2013 – The 15th International Meeting of Photographers
Analogista joined Society6 on September 29, 2014.