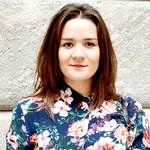 Anastasia Buchinskaya
I'm fashion illustrator and textile designer based in Milan. During my childhood I spent most of my time drawing and creating. After graduating as a fashion designer at the Textile University in the 2010 I moved to Milan to study at Domus Academy at 2012. There I had the opportunity to collaborate with such brands as Red Valentino, Versace and Vogue Italy. I exhibits my free art painting work in art galleries in Russia and Italy. Some of my works are in the private collections in Russia. My style can be described as fashionable and artful . I seek and find inspiration in nature, fashion, cities and the world around me which is constantly in a state of change and movement. Anastasia Buchinskaya joined Society6 on April 6, 2016
More
I'm fashion illustrator and textile designer based in Milan. During my childhood I spent most of my time drawing and creating. After graduating as a fashion designer at the Textile University in the 2010 I moved to Milan to study at Domus Academy at 2012. There I had the opportunity to collaborate with such brands as Red Valentino, Versace and Vogue Italy. I exhibits my free art painting work in art galleries in Russia and Italy. Some of my works are in the private collections in Russia.
My style can be described as fashionable and artful . I seek and find inspiration in nature, fashion, cities and the world around me which is constantly in a state of change and movement.
Anastasia Buchinskaya joined Society6 on April 6, 2016.