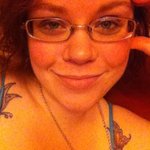 Ana Stevens
Hello! I've always been involved in art one way or another, whether it was sculpting, crafting or Tattooing, which is my day profession. Painting is a newer passion of mine that I started about a year ago, and which takes up huge amounts of my time when I let it. I really love the feeling of freedom I get when I work with my watercolors, which is primarily all I paint with. With my Artwork you get the genuine product, this is not something I created with a quick button click or that I stole using high tech gear. This is the genuine article, and while I learn and grow as an Artist I will continue to post more. If you have any questions, please let me know. Thank you for visiting!! :) Ana Stevens joined Society6 on December 23, 2012
More
Hello! I've always been involved in art one way or another, whether it was sculpting, crafting or Tattooing, which is my day profession. Painting is a newer passion of mine that I started about a year ago, and which takes up huge amounts of my time when I let it. I really love the feeling of freedom I get when I work with my watercolors, which is primarily all I paint with. With my Artwork you get the genuine product, this is not something I created with a quick button click or that I stole using high tech gear. This is the genuine article, and while I learn and grow as an Artist I will continue to post more.
If you have any questions, please let me know. Thank you for visiting!! :)
Ana Stevens joined Society6 on December 23, 2012.
Ana Stevens's Store
30 results
Filter