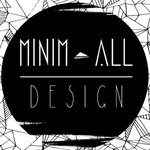 Minim_all Design
✎ Modern, clean, sharp, subtle but still sophisticated and intriquate – this is the feeling that MinimAllDesign ' s Posters and Art Prints wants to bring into your home, workspace or any other place that you want to reflect your personality. ✎ We believe that simplicity is the ultimate form of sophistication and in our shop you will find the most thought out and prettiest Minimalist Prints, Scandinavian Designs, Pattern Art, Watercolor Prints, Black and White Prints, Printable Home Decor, Motivational Posters, Inspirational, Funny Quotes and Instant Digital Download Printable Art. ✎ Each downloadable artwork is handmade by us, especially designed at the highest standards and available as very large resolution file, in order to create memorable prints. Thank you for your visit! Minim_all Design joined Society6 on December 30, 2015
More
✎ Modern, clean, sharp, subtle but still sophisticated and intriquate – this is the feeling that MinimAllDesign ' s Posters and Art Prints wants to bring into your home, workspace or any other place that you want to reflect your personality.
✎ We believe that simplicity is the ultimate form of sophistication and in our shop you will find the most thought out and prettiest Minimalist Prints, Scandinavian Designs, Pattern Art, Watercolor Prints, Black and White Prints, Printable Home Decor, Motivational Posters, Inspirational, Funny Quotes and Instant Digital Download Printable Art.
✎ Each downloadable artwork is handmade by us, especially designed at the highest standards and available as very large resolution file, in order to create memorable prints.
Thank you for your visit!
Minim_all Design joined Society6 on December 30, 2015.