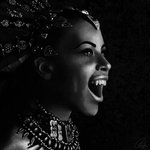 Chiyo Tattoo
Tattoo Artist from Scotland, UK. My aim is to create striking, thought provoking art. Any spare time not spent basking in darkness, is committed to creating artwork for private clients, personal projects and spending time with my favourite sharp fanged friends, ghosts and various other things that go bump in the night. My inspirations range from Lewis Carroll to Michael Hussar. Website : www.facebook.com/ChiyoTattoo INSTAG: @Chiyo.Tattoo Chiyo Tattoo joined Society6 on January 31, 2013
More
Tattoo Artist from Scotland, UK. My aim is to create striking, thought provoking art. Any spare time not spent basking in darkness, is committed to creating artwork for private clients, personal projects and spending time with my favourite sharp fanged friends, ghosts and various other things that go bump in the night.
My inspirations range from Lewis Carroll to Michael Hussar.
Website : www.facebook.com/ChiyoTattoo INSTAG: @Chiyo.Tattoo
Chiyo Tattoo joined Society6 on January 31, 2013.
Duvet Covers by Chiyo Tattoo
1 result
Filter