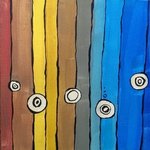 andielafrentz.art
I recently graduated with my business management degree from the University of Alberta, Canada. My restless spirit told me to buy a one way ticket to Ireland, where I will be living for the next 2 years. Inspired by the landscape, people, and scenery here in Galway, I am hoping to make passive income doing what I love - creating things! I hope you enjoy my art, there will be more to come! andielafrentz.art joined Society6 on November 6, 2016
More
I recently graduated with my business management degree from the University of Alberta, Canada. My restless spirit told me to buy a one way ticket to Ireland, where I will be living for the next 2 years. Inspired by the landscape, people, and scenery here in Galway, I am hoping to make passive income doing what I love - creating things!
I hope you enjoy my art, there will be more to come!
andielafrentz.art joined Society6 on November 6, 2016.