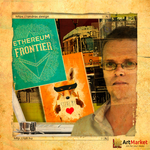 Andera Beloque
Eyes on the World & Hands on the Gear. Enjoy! You can see some of my portfolio at andras.design Creating designs and different graphic art and canvas print works besides my complex working activities. These complex activities could be described in short, like this: I provide design and communication services for business corporations throughout Europe (and som in the U.S). On Society6, I try to build a design and product range on different topics, hopefully some nice collections will appear here. Come back some time again and check out, if there is some new stuff for you! Andera Beloque joined Society6 on August 28, 2015
More
Eyes on the World & Hands on the Gear. Enjoy!
You can see some of my portfolio at andras.design
Creating designs and different graphic art and canvas print works besides my complex working activities. These complex activities could be described in short, like this: I provide design and communication services for business corporations throughout Europe (and som in the U.S).
On Society6, I try to build a design and product range on different topics, hopefully some nice collections will appear here. Come back some time again and check out, if there is some new stuff for you!
Andera Beloque joined Society6 on August 28, 2015.