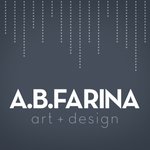 Andrea Farina
I'm Andrea Farina and by day, I'm an Associate Creative Director at an advertising and marketing agency in Connecticut. I spend most of my nights and weekends focusing on my art and freelance design work in my small shared studio space. I experiment with many different mediums from ink and watercolor to embroidery. For the last year or so, I've been focusing mainly on anatomy and the human figure. See my full body of work: abfarina.com Andrea Farina joined Society6 on March 1, 2014
More
I'm Andrea Farina and by day, I'm an Associate Creative Director at an advertising and marketing agency in Connecticut. I spend most of my nights and weekends focusing on my art and freelance design work in my small shared studio space. I experiment with many different mediums from ink and watercolor to embroidery. For the last year or so, I've been focusing mainly on anatomy and the human figure.
See my full body of work: abfarina.com
Andrea Farina joined Society6 on March 1, 2014.
Andrea Farina's Store
36 results
Filter