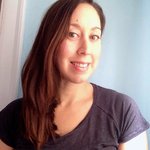 Andrea Folsom
In our backroom I have an old steamer trunk tucked under my workspace. My father got it for me in New Hampshire, where I grew up. My husband and I refinished it – our first project together – many years ago. Its wheels don't roll. It's missing a handle. It weighs a ton. It is my art trunk – filled with paints and brushes, paper and glue, scraps and beads and who-knows-what. I love it! I have drawn and painted my whole life – there are stories of my mother giving me crayons and paper at 2 years old and I would be entertained for hours. Since becoming a mother myself, I have also added sewing to the list of creative processes I'm attempting to master. Nowadays, as a Chicago resident and full time mama, I spend many hours in my kids' room and many hours roaming about the city – my acrylics on canvas paintings are where these loves intersect! I paint things I enjoy in a fun way that appeals to both children and adults alike – not too cute, not too serious. Always the optimist, my goal is to help make the world a more beautiful place, even if it's just one wall, corner or nook at a time – thanks for stopping by! (psst - you can also find me at www.craftingconnections.net - where I write about living artfully and raising a creative family on our site and in our quarterly magazine.) Andrea Folsom joined Society6 on August 12, 2014
More
In our backroom I have an old steamer trunk tucked under my workspace. My father got it for me in New Hampshire, where I grew up. My husband and I refinished it – our first project together – many years ago. Its wheels don't roll. It's missing a handle. It weighs a ton. It is my art trunk – filled with paints and brushes, paper and glue, scraps and beads and who-knows-what. I love it!
I have drawn and painted my whole life – there are stories of my mother giving me crayons and paper at 2 years old and I would be entertained for hours. Since becoming a mother myself, I have also added sewing to the list of creative processes I'm attempting to master.
Nowadays, as a Chicago resident and full time mama, I spend many hours in my kids' room and many hours roaming about the city – my acrylics on canvas paintings are where these loves intersect! I paint things I enjoy in a fun way that appeals to both children and adults alike – not too cute, not too serious.
Always the optimist, my goal is to help make the world a more beautiful place, even if it's just one wall, corner or nook at a time – thanks for stopping by!
(psst - you can also find me at www.craftingconnections.net - where I write about living artfully and raising a creative family on our site and in our quarterly magazine.)
Andrea Folsom joined Society6 on August 12, 2014.