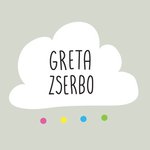 GretaZserbo
I'm a Hungarian Art Director, living in the beautiful city of Budapest. I've been constantly in love with illustration since my childhood. I mainly draw for fun, but sometimes for serious causes :)
I like simple things, I'm passionate when it comes to animals or some objects - like my car (Elmo).
Got interested in my work? Check out my portfolio for more: http://www.behance.net/gretazserbo
All the things I'm selling: http://www.facebook.com/TheGretaZserboShop
If you feel like posting anything of my work, please, let me know by a message at GretaZserbo Shop's facebook page - I'll be surprised and very happy :) Cheers!
Read more
GretaZserbo's Store
Filter