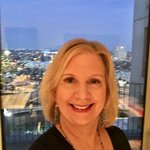 Andrea Lamarsaude Art
I am artist based in Dallas, Texas, painting abstract art, mixed media, mono-printing, and collage.
I am a marketer and writer and have a great passion for telling stories using the written word. My art is an extension of that. My hope is that my paintings visually tell captivating stories, inspire conversations, and bring positive, creative energy into the world.
I enjoy using a variety of mediums; acrylic and oil paints, alcohol inks, mediums, pastels, mono-printing, hand-painted papers, stencils, image transfers, found objects, and lots of love.
Trusting my intuition and following my heart has been the best way to create not only my art, but also my life.
Let's connect! Email me at andrea@lamarsaude.com
Website: www.andrealamarsaude.com
Instagram: www.instagram.com/andrealamarsaude/
Facebook: www.facebook.com/AndreaLamarsaudeArt/
Read more