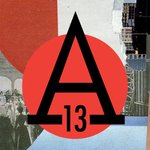 Andrei Cojocaru
Hi, I'm Andrei. I make collages - both handmade and digital. I've been doing this since 2008.
I like shapes, patterns, colours, letters, numbers.
I work with found papers, photos, cutouts, printouts, receipts, labels, tape, markers, glue, textures, (spray)paint, cutters, scanners, computers, printers and copy machines.
I love meeting new artists and I love collaborations, so if you have an idea, a project, a commercial or non-commercial proposal, or just want to say hi, don't hesitate to drop me a line!
You can find me in these places: http://andreicojocaru.net http://facebook.com/andreicojocaru.net http://twitter.com/AndrCjcr
Read more
Andrei Cojocaru's Store
Filter