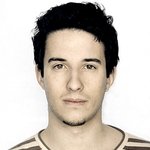 Andrej Balaz
Art is my free-time passion. Besides, I work as an interaction and visual designer, as well as a freelance illustrator. I like to combine traditional and digital media to create abstract, often geometric compositions filled with different symbols. I love the way color affects the human perception and I enjoy employing color to create different atmospheres. I am inspired by the unity and fascinating balance of nature. Check out my portfolio at http://www.balaz.de Andrej Balaz joined Society6 on December 12, 2013
More
Art is my free-time passion. Besides, I work as an interaction and visual designer, as well as a freelance illustrator. I like to combine traditional and digital media to create abstract, often geometric compositions filled with different symbols. I love the way color affects the human perception and I enjoy employing color to create different atmospheres. I am inspired by the unity and fascinating balance of nature.
Check out my portfolio at http://www.balaz.de
Andrej Balaz joined Society6 on December 12, 2013.