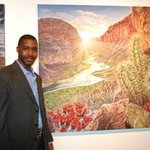 Andrew Akufo Art Enterprise
Artist Statement I have a broad range of subject matter I enjoy painting. My work encompasses sports illustration and still life to portraiture and landscapes. I easily get bored painting the same concept repetitively so I tend to switch the subject of my paintings often. My work has recently moved in the direction of painting Western landscapes and people. My travels to Arizona and internship experience painting at the National Cowboy Museum has led to me becoming fascinated by the Western culture of the Southwest U.S. I work to capture the beauty, and scale of the plains and rocky deserts in my landscape paintings as well as the mood and story behind my Native American and cowboy portraiture. I use bright saturated colors of acrylics and oil paint to emphasize the vividness and contrast of value present in my compositions. Biography Andrew Akufo recently, graduated from the University of Central Oklahoma in 2012 with a BFA in Studio Art. Andrew had previously graduated from Rose State College, where he received the Teddy Roosevelt "Bully" Arts Scholarship as well as his Associate's degree in 2009. He has an emphasis in Painting and minor in Art History. Andrew is very active exhibiting in numerous solo, group, and juried shows, including Afro Americana, Momentum Tulsa 2010, and MOREcolor among several others. His work has been featured in publications such as Persimmon Hill and the Oklahoman. He also has work in permanent collections such as the National Western Heritage Cowboy Museum and University of Central Oklahoma. Andrew has studied art in America, Italy, Hungary, and Slovenia. Represented by galleries in both Oklahoma and Arizona, Andrew continues to work on his Western series as well as commissions. Andrew Akufo Art Enterprise joined Society6 on May 25, 2013
More
Artist Statement
I have a broad range of subject matter I enjoy painting. My work encompasses sports illustration and still life to portraiture and landscapes. I easily get bored painting the same concept repetitively so I tend to switch the subject of my paintings often. My work has recently moved in the direction of painting Western landscapes and people. My travels to Arizona and internship experience painting at the National Cowboy Museum has led to me becoming fascinated by the Western culture of the Southwest U.S. I work to capture the beauty, and scale of the plains and rocky deserts in my landscape paintings as well as the mood and story behind my Native American and cowboy portraiture. I use bright saturated colors of acrylics and oil paint to emphasize the vividness and contrast of value present in my compositions.
Biography
Andrew Akufo recently, graduated from the University of Central Oklahoma in 2012 with a BFA in Studio Art. Andrew had previously graduated from Rose State College, where he received the Teddy Roosevelt "Bully" Arts Scholarship as well as his Associate's degree in 2009. He has an emphasis in Painting and minor in Art History. Andrew is very active exhibiting in numerous solo, group, and juried shows, including Afro Americana, Momentum Tulsa 2010, and MOREcolor among several others. His work has been featured in publications such as Persimmon Hill and the Oklahoman. He also has work in permanent collections such as the National Western Heritage Cowboy Museum and University of Central Oklahoma. Andrew has studied art in America, Italy, Hungary, and Slovenia. Represented by galleries in both Oklahoma and Arizona, Andrew continues to work on his Western series as well as commissions.
Andrew Akufo Art Enterprise joined Society6 on May 25, 2013.
Andrew Akufo Art Enterprise's Store
18 results
Filter