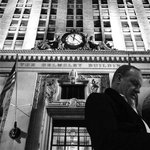 BrandNewMindsPhoto
Andrew Hayward Smith
Having descended from the lineage of Antarctic explorer Sir Ernest Shackleton, travel and exploration are in Andrew Hayward Smith's genes.
In 2009 he completed a 14,000-mile solo motorcycle journey around the United States and published a book "Triumph Across The USA".
In 2013 he completed a 22,500-mile solo motorcycle journey from Miami to the Arctic Circle and back again. The journey covered 127 days, many USA States, and the whole of the Trans Canada Highway.
Who knows where the next journey will take him.
He has been a contributing writer and photographer for the luxury travel publication East-West Magazine published in Vietnam, and a contributing writer for the global CouchSurfing.org newsletter. Since 1996 he has produced and hosted a weekly, hour-long volunteer radio program (Esquire magazine) for the print impaired on WLRN's Radio Reading Service. Andrew's professional career has been focused on the advertising and marketing of luxury goods and services. Born and raised in the small northern town of Nantwich, England, Andrew emigrated to Miami, Florida in 1990 where he still resides today. With the "Arctic Ride for Dreams" Andrew combined all of his passions in life: travel, charitable causes, marketing, photography and writing. He hopes one day to continue with another long distance motorcycle journey.
Learn more at: www.BrandNewMinds.net www.ArcticRideForDreams.com
Read more
BrandNewMindsPhoto's Store
Filter