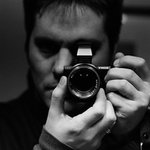 Andrew Kaiser
Andrew Kaiser has been a photographer for the past 10 years and currently resides in beautiful Portland Oregon. Andrew finds beauty in working with with traditional film for most of his work including medium format, 35mm, and sometimes sheet film. His subjects are not professional models, but rather friends and fellow artists who appreciate the craft and art of photography. Andrew Kaiser joined Society6 on September 23, 2014
More
Andrew Kaiser has been a photographer for the past 10 years and currently resides in beautiful Portland Oregon.
Andrew finds beauty in working with with traditional film for most of his work including medium format, 35mm, and sometimes sheet film. His subjects are not professional models, but rather friends and fellow artists who appreciate the craft and art of photography.
Andrew Kaiser joined Society6 on September 23, 2014.
Andrew Kaiser's Store
33 results
Filter