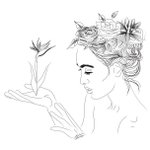 andwomandesign
Melissa Showers was born in New York, where she discovered her love for tall stacks of xerox paper to draw on at the age of 3 years. Her mother Lynn and father Rafik always encouraged her creativity and satisfied her craving for art lessons starting at 6 years old. She studied fine art, graphic design and 3D animation at the Art Institute of Houston. follow her on Instagram @and_woman & her personal website melissashowers.com andwomandesign joined Society6 on October 26, 2016
More
Melissa Showers was born in New York, where she discovered her love for tall stacks of xerox paper to draw on at the age of 3 years. Her mother Lynn and father Rafik always encouraged her creativity and satisfied her craving for art lessons starting at 6 years old. She studied fine art, graphic design and 3D animation at the Art Institute of Houston.
follow her on Instagram @and_woman & her personal website melissashowers.com
andwomandesign joined Society6 on October 26, 2016.