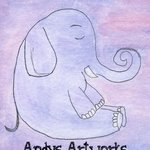 AndysArtworks
Motivational ArtWork and other mental illness inspired crafts. My art began as a form of personal therapy and the drive to inspire or help others. I love experimenting with new ideas, mediums, and styles. Being artistic, is one of life's greatest pleasures. Painting, drawing, and crafting fills me with feelings of contentment and serenity. It provides me direction and it gives me a purpose. Creating new pieces makes me feel more grounded, in addition to providing me a sense of accomplishment. It allows me to escape the bonds of depression. We can do anything if we only put our minds to it. My goal is to make others smile, to give back, and provide inspiration to others living with mental illness. AndysArtworks joined Society6 on August 17, 2014
More
Motivational ArtWork and other mental illness inspired crafts.
My art began as a form of personal therapy and the drive to inspire or help others. I love experimenting with new ideas, mediums, and styles. Being artistic, is one of life's greatest pleasures. Painting, drawing, and crafting fills me with feelings of contentment and serenity. It provides me direction and it gives me a purpose. Creating new pieces makes me feel more grounded, in addition to providing me a sense of accomplishment. It allows me to escape the bonds of depression. We can do anything if we only put our minds to it. My goal is to make others smile, to give back, and provide inspiration to others living with mental illness.
AndysArtworks joined Society6 on August 17, 2014.