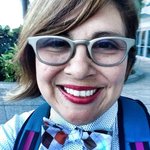 Anel I. Flores
Anel I. Flores Bio Tejana border-born lesbiana, writer, visual artist, metal-smith, educator and independent scholar earned her BA in English and her MFA in Creative Writing. Flores completed additional studies in gold, silver and bronze sculpture at the Instituto Allende in San Miguel de Allende, Mexico and has been instructed by authors Leslie Marmon-Silko, Cherrie Morraga, Sandra Cisneros, Elena Georgiou, Mariana Romo-Carmona and Sharon Bridgeforth. Words Anel is author of novel, Empanada: A Lesbiana Story en Probaditas (Kórima Press & Evelyn Street Press), and play Empanda, which has been produced at multiple venues including the National Museum of Mexican Art in Chicago, MACLA in San Jose, CA, MECA in Houston, the Mexican American Cultural Center in Austin, the Esperanza Peace and Justice Center in San Antonio, the University of Texas, Trinity University and at national art festivals. Additional work can be found in The San Antonio Current (2012), Ignite Magazine (2011), El Mundo Zurdo with Aunt Lute press (2010), Sinister Wisdom 74 (2008), Rooted: A Queer Women of Color Anthology (2008), iungo Arts Magazine (2007), the Lodestar Quarterly (2005), The Pitkin Literary Review (2004), La Voz de Esperanza (2004 & 2006), Mother Tongues: A Literary Exchange Anthology (2003), Revolution (2002), Scarcely Scholarly (1997), and the University of the Incarnate Word's Literary Anthology, Quirk (1995). Her awards include the Mentorship and Leadership Initiative Award from the National Performance Network and the National Association of Latinos in Arts and Culture (2010). She is an alumni of the National Association of Latino Arts and Culture Leadership Institute and a Member of Sandra Cisneros' Macondo Writer's Workshop. Currently she is at work on a novel about the dangers of home titled, Tiempo Olvidado: That Time Forgot. Art If the naked eye could see the passion and truth alive and brewing in a person's soul, you would see the electric colors found in the subjects of Anel's visual art. Jewelry Gently handcrafted, with various inlays of lace, circa 1930, each of her fine silver and copper sculpted jewelry preserves history, tradition and craft, while resulting in a one of a kind piece of wearable art. Anel's silver and copper jewelry is made from the traditional metals found in Aztec ceremonial instruments. Her metals are not mined from the land; but instead, she uses recycled silver and copper from old car engine parts and digital mechanisms to create each piece. Furthermore, the gemstones found in her work are lab-grown and originate from a process that is environmentally sustainable and conflict-free to humans and animals.She studied in San Miguel de Allende where she founded an international artist partnership exchange while also mastering bronze, gold and silver sculpture and jewelry making. Anel I. Flores joined Society6 on August 9, 2014
More
Anel I. Flores
Bio
Tejana border-born lesbiana, writer, visual artist, metal-smith, educator and independent scholar earned her BA in English and her MFA in Creative Writing. Flores completed additional studies in gold, silver and bronze sculpture at the Instituto Allende in San Miguel de Allende, Mexico and has been instructed by authors Leslie Marmon-Silko, Cherrie Morraga, Sandra Cisneros, Elena Georgiou, Mariana Romo-Carmona and Sharon Bridgeforth.
Words
Anel is author of novel, Empanada: A Lesbiana Story en Probaditas (Kórima Press & Evelyn Street Press), and play Empanda, which has been produced at multiple venues including the National Museum of Mexican Art in Chicago, MACLA in San Jose, CA, MECA in Houston, the Mexican American Cultural Center in Austin, the Esperanza Peace and Justice Center in San Antonio, the University of Texas, Trinity University and at national art festivals. Additional work can be found in The San Antonio Current (2012), Ignite Magazine (2011), El Mundo Zurdo with Aunt Lute press (2010), Sinister Wisdom 74 (2008), Rooted: A Queer Women of Color Anthology (2008), iungo Arts Magazine (2007), the Lodestar Quarterly (2005), The Pitkin Literary Review (2004), La Voz de Esperanza (2004 & 2006), Mother Tongues: A Literary Exchange Anthology (2003), Revolution (2002), Scarcely Scholarly (1997), and the University of the Incarnate Word's Literary Anthology, Quirk (1995). Her awards include the Mentorship and Leadership Initiative Award from the National Performance Network and the National Association of Latinos in Arts and Culture (2010). She is an alumni of the National Association of Latino Arts and Culture Leadership Institute and a Member of Sandra Cisneros' Macondo Writer's Workshop. Currently she is at work on a novel about the dangers of home titled, Tiempo Olvidado: That Time Forgot.
Art
If the naked eye could see the passion and truth alive and brewing in a person's soul, you would see the electric colors found in the subjects of Anel's visual art.
Jewelry
Gently handcrafted, with various inlays of lace, circa 1930, each of her fine silver and copper sculpted jewelry preserves history, tradition and craft, while resulting in a one of a kind piece of wearable art.
Anel's silver and copper jewelry is made from the traditional metals found in Aztec ceremonial instruments. Her metals are not mined from the land; but instead, she uses recycled silver and copper from old car engine parts and digital mechanisms to create each piece. Furthermore, the gemstones found in her work are lab-grown and originate from a process that is environmentally sustainable and conflict-free to humans and animals.She studied in San Miguel de Allende where she founded an international artist partnership exchange while also mastering bronze, gold and silver sculpture and jewelry making.
Anel I. Flores joined Society6 on August 9, 2014.