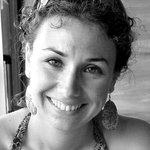 Angela Cabrera
My name is Ángela Cabrera. I´m artist, author, Art teacher and Mom. :-) I can´t imagine my life without drawing, creating, photography, inventing and keeping looking for things that are not to cultivate and renew the imagination and creativity! - See more at: http://angelagcabrera.blogspot.com.es/#sthash.uNc1aPbg.dpuf Angela Cabrera joined Society6 on March 6, 2016
More
My name is Ángela Cabrera. I´m artist, author, Art teacher and Mom. :-) I can´t imagine my life without drawing, creating, photography, inventing and keeping looking for things that are not to cultivate and renew the imagination and creativity!
See more at: http://angelagcabrera.blogspot.com.es/#sthash.uNc1aPbg.dpuf
Angela Cabrera joined Society6 on March 6, 2016.