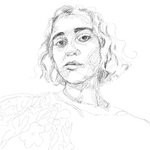 angela karpouzi
Angela Karpouzi is a Fashion Designer and Illustrator, currently based in Vienna, Austria. She uses illustration as a way to relieve anxiety, and recurring themes that can be found in her private work are 'prettiness', loneliness, female sexuality, self-love and the acceptance and embracing of one's emotional states. angela karpouzi joined Society6 on January 15, 2017
More
Angela Karpouzi is a Fashion Designer and Illustrator, currently based in Vienna, Austria.
She uses illustration as a way to relieve anxiety, and recurring themes that can be found in her private work are 'prettiness', loneliness, female sexuality, self-love and the acceptance and embracing of one's emotional states.
angela karpouzi joined Society6 on January 15, 2017.