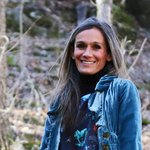 Angela Staehling
"My happy place is outside, woven between the trees with moss-covered stones beneath my feet."
Angela is an illustrator, surface designer and author who works on designs for clients like Chronicle Books, Target, Macy's, Smithsonian Store, Pier 1 Imports and Kohl's. She designs her own collections of dinnerware, stationery, textiles and other home decor product lines.
When not illustrating, Angela enjoys spending time in her garden, hanging out with her kids and hiking nearby nature trails. She draws much of her inspiration from the great outdoors and delights in playing with new art mediums and styles.
Angela is an active member of her local art community where she serves as art council member, organizer and promoter of art events and juror. She has designed and taught art programs to communities in need and brought art projects into schools that lack funding for the arts.
Read more